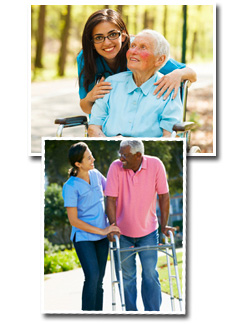 >> Need to come in?
327 W. Baltimore Pike,
Chester Heights, PA 19063-5625
Are you the special kind of person who can always offer tender, loving care to those needing help, who shows up for work no matter what the weather is like, who's trustworthy enough to become an integral part of someone's life? Are you ready for more than the next job? Are you ready for a truly rewarding work experience? If so, you may meet the qualifications to be a Home Helpers Caregiver.
Home Helpers hires only Compassionate Caregivers to provide care for our clients in the clients' homes. Our clients live in western Delaware County, eastern Chester County, the Main Line, and Mt. Airy. The successful applicant will have some experience providing care, will have a valid driver's license and a reliable vehicle, will be willing to drive short distances to clients' homes, and will enjoy helping those who need assistance.
The job description identifies the work our Compassionate Caregivers perform and the qualifications you are required to meet to be a candidate for this position. Please read the job description and complete an application. It will be submitted immediately to us and we will contact you shortly after that.
>> Click for the entire description and to apply